Valencia is once again the preparatory venue for major international events. In this way, from June 19 to 27, 2019 . This tournament will take place, which will feature international women's teams that seek to be part of the world elite and obtain a place for the Tokyo 2020 Olympics.
The Championship VALENCIA HOCKEY SERIES FINAL WOMEN 2019 is a competition with official matches in which the first two classified will take the first step to get a place to the Olympics of the year 2020, since they are classified to deputize the final Play Off.
The Royal Spanish Hockey Federation has chosen the Hockey Federation of the Valencian Community in numerous tournaments each time of greater international relevance for its extensive training for the organization of events.
Powered by the magic of highly competitive, action-packed hockey, the HOCKEY SERIES FINALS offers a relentless drama and excitement driven by the opportunity to qualify for the Tokyo 2020 Olympic Games.
Open to all countries that are not in the World League or Pro League of Hockey, the HOCKEY SERIES FINALS provides nations in training for hockey players the opportunity to test against some of the best in the world, with dreams of achieve the iconic hockey events. Because it is here, in the HOCKEY SERIES FINALS, where history will be made and future stars will be born.
The HOCKEY SERIES FINALS consists of two rounds, played for two years before the Olympic Games. The competitions and subsequent qualification processes are exactly the same for men's and women's competitions in line with the "Equally incredible" spirit of hockey.
Of all the teams competing in a previous round (Hockey Series Open), a minimum of 15 teams will qualify for one of the three women's FINAL SERIES HOCKEY SERIES to be held in Ireland, Japan and Spain.
Each of the HOCKEY SERIES FINALS will have eight teams participating in them and will be held worldwide, with seats in the Play Off Events of Classification for the Tokyo 2020 Olympiad.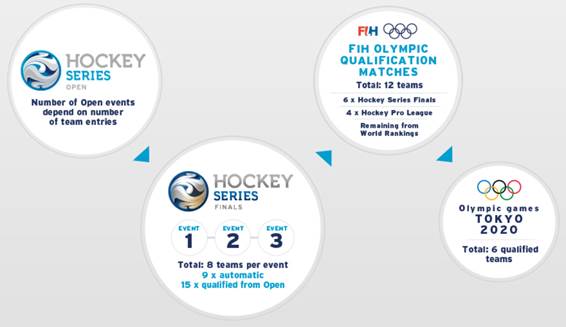 TICKET SALES
Calendar